Il Barco della Regina
Altivole (Treviso)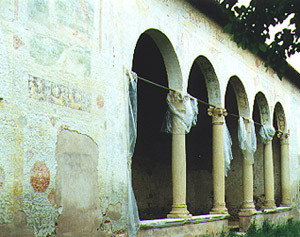 In exchange for ceding the Kingdom of Cyprus to Venice in February 1489, Queen Caterina Cornaro (B-31) received a life estate in a domain centered in the Venetan hill town of Asolo in the region of Treviso. She soon commissioned Francesco Grazioli to design a new residence for her in nearby Altivole. The residence, which became known as IL BARCO DELLA REGINA [the Barco of the Queen], was constructed by Pietro Lugato in the period 1491-2.
The structure stood within an area of 200 Trevisan campi [fields] (about 100 hectares or 250 acres), including a lake and gardens. The gardens featured water jets springing from a central sculptural grouping of the goddess Amphitrite seated on a conch shell among dolphins and tritons.
The Barco was substantially destroyed c. 1820. Only a single barchessa [farm building] and a small chapel remain. The barchessa features an elegant central loggia of five arches and remnants of exterior and interior frescos attributed to Girolamo [Pennacchi] da Treviso, c. 1495.