Ca' Cornaro della Regina
Grand Canal, S. Cassiano Parish (S. Polo)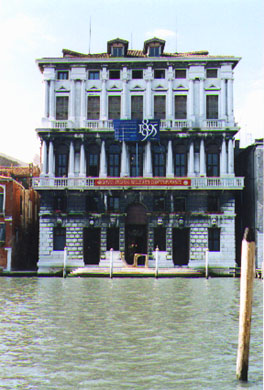 CA' CORNARO DELLA REGINA stands on the site of an earlier palace known as Cà Mocenigo that was acquired by Giorgio Cornaro (B-10), 1419 (or, as indicated by one account, by his sons, the remarkable brothers Cav. Marco Cornaro (B-16) and Proc. Andrea Cornaro (B-17), 1458). The earlier palace became the Venetian seat of Cav. Marco's daughter Queen Caterina Cornaro (B-31) after she ceded her Kingdom of Cyprus to Venice and took up her principal residence at Asolo.


Much later, in 1723, in accordance with the testamentary wishes of their uncle Cav Proc. Federico Prospero Cornaro (H-31), Proc. Andrea Antonio Giuseppe Cornaro (H-39) and his brother Sen. Federico Antonio Alberto Cornaro (H-40) razed the old palace and commissioned the architect Domenico Rossi to erect the present structure on the site. Costantino Cedini and Vincenzo Colomba created the frescos and stucco decoration.
Deborah Howard comments in The Architectural History of Venice (p. 196): "The sober classical detail of the facade is indicative of the change under way in Venetian architectural taste, though an element of Baroque extravagance survives in the enormous keystone heads of the pianterreno." Wittkower states in Art & Architecture in Italy 1600-1750 (p. 252) that the structure marks "the return to a classical architecture" after the excesses of Rococo and Baroque.
In 1802 Caterino Antonio Cornaro, upon his death without descendants, bequeathed the palace and all its paintings to Pope Pius VII. The property passed in 1817 to a Venetian monastic order and later to the city government of Venice. Since 1975 the palace has housed the administrative offices of La Biennale di Venezia, and it is frequently draped with the banners of that celebrated organization.


Home | Palaces | Chapels | Villas | Paintings | Theaters

Family | Links